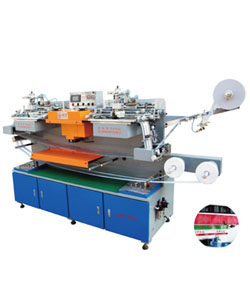 HY BRAND 2 COLORS SCREEN PRINTING MACHINE, MODEL HY 116
Machine laid out: To print labels according to the following specifications.
Machine execution:
– At a time maximum 2 colors screen printing
– maximum width 180mm
– maximum printing length 400mm
– maximum speed 1800print/hour
– weight approximate 1350kgs
Production capacity: 300m with single roll lay out
Electrical voltage: For 2 set dryer and heater
Power supply: 220V
Output: 2 KW Maximum
Air supply: Minimum 8 bars
Application: Satin ribbon, cotton tape etc.
Packing: Standard sea worthy packing from Shanghai, China seaport.
Installation: Not included, client pay hotel and flights
Test of function: Mechanical check as well as test-run prior to shipment
Payment By: irrevocable L/C at sight
Delivery: 40 days upon receive your letter of credit
HS code: 84435900
Warranty: 1(one) year limited warranty
Country of origin: China